The National Nutrition Week is observed in India from 1 September to 7 September each year. It is a theme-based observation with the 2018 theme being 'Go Further with Food'. The National Nutrition Week is observed with the objective to spread awareness regarding the importance of nutrition in proper growth and development of people.
Fruits, vegetables, pulses, and cereals are natural source of nutrition and benefit human health in several ways. As part of the National Nutrition Week, today we will explore the nutritional value and health benefits of three fruits: Apple, Banana, and Orange.
Does the phrase 'An apple a day keeps the doctor away' sound familiar to you? The crunch and juicy fruit, apple, is a rich source of Vitamin C, dietary fibre, antioxidants and flavanoids. It can be relished raw, as a drink, and also can be used in various recipes such as pies.
Health benefits:
• Vitamin C blocks damages that can be caused by free radicals thereby increasing resistance against infections and diseases.
• B-complex vitamins helps to maintain red blood cells and promotes neurological health.
• The high fibre content in apple helps in moderating blood sugar levels and is beneficial for colon health.
• The various antioxidants and phytonutrients present in apple contribute to good heart health and reduces the risk of hypertension, diabetes and cancer.
The humble yellow fruit is one of the most widely consumed fruits in the world. Bananas are rich source of fibre, Vitamin C, Vitamin B6, potassium, including various antioxidants and phytonutrients. Just peel and eat, or turn it into a milkshake, or use it for baked dishes such as a banana cake, bananas will benefit you tremendously.
Health benefits:
• The rich potassium content in bananas help to maintain fluid levels in the body thereby regulating the movement of nutrients and promoting digestion. It helps in muscle contraction, cell response, regulates blood pressure, and reduces the risk of kidney stones.
• High fibre content promotes colon health.
• Dopamine from bananas act as potent antioxidant and promotes healthy nervous system.
The bright orange fruit, orange is a storehouse of nutrients. An orange contains more than 60 flavanoids and 170 different types of phytochemicals which have been found to have anti-inflammatory and antioxidant properties. It can either be eaten whole, or in the form of juice and can also be used to add flavour in many dishes too.
Health benefits:
• Consumption of orange may lower the risk of ischemic stroke among women.
• An excellent source of Vitamin C, oranges obstruct formation of free radicals thereby preventing cancer and various skin diseases.
• Oranges support heart health due its Vitamin C, potassium, fibre, and choline content.
• The rich nutrients in orange boosts the immune system, promotes learning and memory, muscle movement and also helps to maintain a healthy nervous system.
The table below indicates that along with providing macro-nutrients, the mentioned fruits are also good sources of micro-nutrients: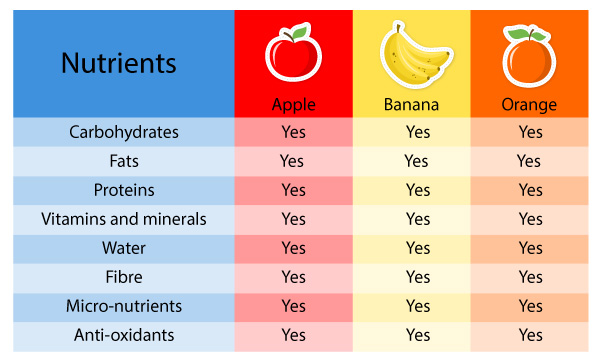 Akshaya Patra's contribution in nourishing children
The Akshaya Patra Foundation is a mid-day meal NGO in India. It has been in the service of children since 2000. To improve the nutritional status of children, the NGO has designed its meal menu in a way to provide adequate nutrition to each child to promote health and support education. Currently, Akshaya Patra has a beneficiary base of more than 1.76 million school children across 12 states of the country. The Akshaya Patra meals are rich in natural nutrients of vegetables, pulses, and fruits. And, the result of it can be seen the impact studies done on Akshaya Patra.
Conclusion
As a wrap, Akshaya Patra is striving to provide nutritious meals to more and more children with the objective to provide a strong foundation for the nation's human resource. Support National Nutrition Week by choosing to donate to end hunger. your donation will be used to provide healthy and wholesome meals to children across India.
---