Global health threats are slowly engulfing everyone everywhere. Bit by bit the world is getting alarmed by teething health problems that are increasing mortality rates especially in children all over the world. In India the situation is alarming as its children continue to be in a state of silent emergency in terms of health indicators.
It is reported that nearly 3,000 children die daily owing to malnutrition and one child dies every minute of severe acute malnutrition in India. Additionally India also continues to harbour one of the highest estimates of malnourished children in the world with a (Global Hunger Index) GHI score of (29.0).
Hence Akshaya Patra like many other NGOs of the world is trying its level best to address twin issues of hunger and malnutrition by providing wholesome mid-day meals every school day. Our mid-day meals are designed in such a fashion that children automatically get their daily intake of fresh vegetables, dairy products, cereals, beans, legumes and oils imperative for increasing nutritional levels.
However the manner of consumption also plays an effective role when it comes to providing the daily intake of nutrients and vitamins as children often do not consume the entire amount of food served to them at schools. This results in partial nutritional intake that further sustains malnutrition in children.
Hence containing sensitivity to make food more desirable and nutritious at the same time, Akshaya Patra has designed a tailored menu for the various palates it serves.
A typical North Indian menu includes: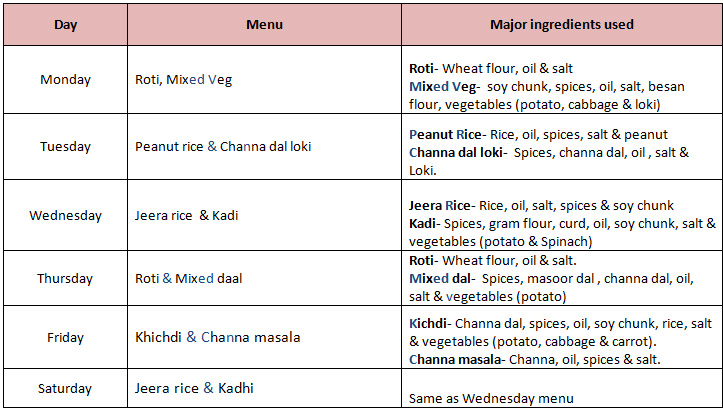 A typical South Indian menu includes:
As one can see both the menus are robust combinations of fresh vegetables, cereals, carbohydrates, proteins, dairy products and essential fats, strictly designed under the guidance of nutritionists and food experts to address concerns of nutritional intake, food safety and food consumption in children. Akshaya Patra also makes a conscious effort to modify the menus on a timely manner so that children get more variety and a change of taste in terms of the food served. Children are also served fruits and sweets on special occasions that act as an incentive to their daily meals.
Akshaya Patra undertakes this challenging task of feeding its 1.5 million beneficiaries every school day because it believes that a balanced diet is the only natural shed children can use to strengthen their immunity system and keep their bodies free of any diseases.
In conclusion, ending malnutrition in India will not only reduce child mortality rates branching from several diseases and infections, it will also increase the overall effectiveness of the school lunch programme. Hence on this World Health Day, 2016 Akshaya Patra urges people to raise ample awareness about the pressing issue of malnutrition and its associated health risks in India. We are also of the opinion that community mobilisation and engagement of local youths and social workers can further pursue the cause so that together we can build a nation free of malnutrition for our children.