The history of Raksha Bandhan dates back thousands of years. It is one of the oldest traditions observed in India to celebrate the special bond between brothers and sisters. It is an annual festival observed on the last day of the Shraavana month (Hindu lunar calendar) which typically falls in August. On this day, the sister ties the sacred thread – Rakhi – on her brother's wrist and prays for his well-being and prosperity by performing the ritual of tilak and aarti; whereas the brother promises to protect and take care of his sister under all circumstances, and also presents her with gifts.
Each school day, Akshaya Patra nourishes millions of children across India. Among so many children there are many siblings who study in the same school and equally benefits from the mid-day meal. This Raksha Bandhan, we bring you a small story of one such brother-sister duo who believes in 'sharing is caring'.
Kaveri and Darshan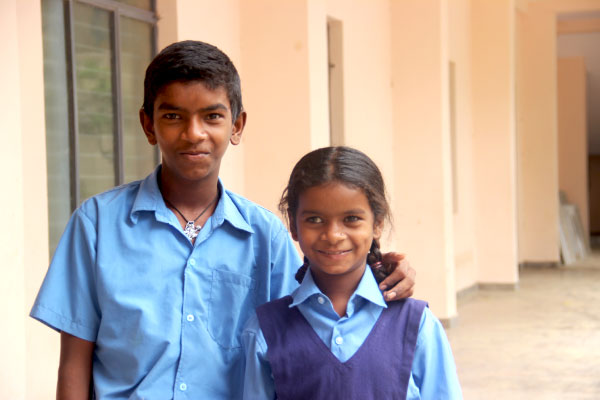 Kaveri and Darshan study in the same school and has the vision to serve the nation and the people. Darshan, a student of Standard VII aspires to join the Indian Army in the future; and his sister, Kaveri, a student of Standard V aspires to be a doctor. Their parents work as street vendors to support the family, but despite hardships, this brother-sister duo is determined to achieve their dreams.
When asked about the kind of relationship they share with each other, Darshan being the elder one replied promptly,
"We believe in sharing is caring. We share our food, toys, stationeries, and even sweets. Both of us love the pulao that is served as a part of our school lunch. I promise to take care of my sister at all times. I want to help my sister with her studies in whatever way I can, and want to see her achieve the dream of becoming a doctor."
To this Kaveri quickly added,
"And, I want to see my brother as an Army Officer. And, I want to be the first one to salute him."
Well, as is evident, they not only share things, but also share the same wish for each other!
Alike Kaveri and Darshan, there are many brothers and sisters who despite all odds always care for each other and support each other's dreams. And, celebrating this special bond of love, care, and protection,
Akshaya Patra wishes everyone a very Happy Raksha Bandhan!
Be a part of this celebration and support the bond of siblings by providing them the access to food and education. This Raksha Bandhan donate to Akshaya Patra in honour of your sibling.
If you wish to share your special 'Brother & Me' or 'Sister & Me' story, please make use of the below comment section. We would love to hear it!