New beginnings, new promises, and joy and celebrations fill the air across India as the month of April sets in. This spring month rings in New Year for many Indian states. Yes, India celebrates New Year in various regions at various times – typifying the diversity of culture and traditions in the country.
Just like each region has its unique culture and tradition, it also has its specific day to celebrate New Year based on the solar and lunar calendar.
Between 13th and 15th of April, New Year is celebrated as Rongali Bihu in Assam, Bishuva Sankranti in Odisha and Puthandu in Tamil Nadu.
Here is a quick look at the vibrant celebrations across the states:
Rongali Bihu in Assam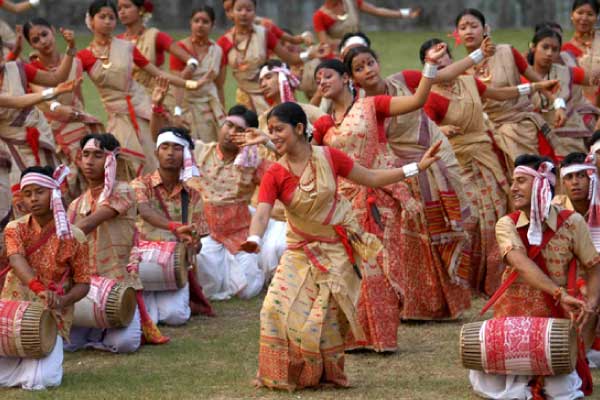 Rongali Bihu marks the New Year and the beginning of the agriculture season in Assam. This spring festival is celebrated with much enthusiasm, faith, and joy. Amidst traditional rituals, music, dance, and regional delicacies, this festive season spreads the message of happiness, good regards, and comradeship in the society.
Amidst pulsating revelry, we must also remember our fellowmates, especially children, who would love to be a part of the celebrations but are devoid of basic needs like food. Here, the service of The Akshaya Patra Foundation that has been operating in Assam since 2010 becomes evident. Akshaya Patra, a mid-day meal NGO in Assam is striving towards transforming lives of children by providing freshly cooked, nutritious lunch to children on each school day.
Presently, it is impacting 47,249 children in 607 government schools in the state. This Rongali Bihu, you can make a lasting difference in the lives of these young children by supporting our cause and filling the year for these children with the goodness of healthy meals and richness of rightful education.
Maha Bishuva Sankranti in Odisha
Maha Bishuva Sankranti or Pana Sankranti is the traditional New Year in Odisha. People offer prayers at temples, perform rituals, visit fairs, spectate various activities such as dances, acrobatics, ancient forms of performances such as fire walks, and relish delicious feasts. This auspicious occasion is considered to bring prosperity in the fresh year.
While paying respect to age-old customs, let's also take note of our future progress that rests in the hands of the children. Let us make a conscious effort to provide for children who have the zeal to learn but lack in resources. Akshaya Patra, a mid-day meal NGO operating in Odisha since 2006 is striving towards improving lives of children by providing freshly cooked, wholesome meals to children on each school day.
Presently, it is impacting the lives of 1,80,140 children in 1,840 government schools in the state. This Maha Bishuva Sankranti, choose to positively alter the future of young children by supporting our cause and aiding children for a prosperous future.
You can support our cause at: Feed the hungry children
Puthandu in Tamil Nadu
Puthandu is the traditional New Year day celebrated in Tamil Nadu. The day is characteristic of rituals such as wake up to the sight of a traditional tray arranged with flowers, jewellery, money, betel leaves, areca nuts, three fruits – bananas, mangoes, and jackfruit, and a mirror, and making kolam – traditional design made on floor with coloured rice powder; and making The festival symbolises hope for new opportunities, growth, and prosperity.
Most us may follow the tradition to wake up to a sight that is considered to bring good fortune. But, there are many who wake up every day with the looming doubt of whether or not they will receive the day's meal; and these unfortunate mornings are a part of young children's lives too!
This Puthandu, give new hopes and signs of prosperity to young children by supporting Akshaya Patra's cause of providing food for education. Akshaya Patra, a mid-day meal NGO provides freshly cooked, healthy meals to 731 school children in the state on each school day.
Other States Celebrates New Year as
Baisakhi in Punjab
Poila Boishakh in West Bengal
Vishu in Kerala
We may belong to different states, yet we are united with the common thread of being Indians. These traditional festivals bring families, friends, and the entire community together. Along with the pomp and show, these festivals spread the message of unity, brotherhood, and cultural solidarity. They teach us to spread hope, joy, and good regards, while also encouraging the practice of offering charity so that the entire society can progress and prosper together. So, in the spirit of unity and the festive season, support and convey your affection to those little Indians who equally deserve to celebrate but may not have the means to!
Akshaya Patra wishes each and everyone a very happy and prosperous New Year!
We would love to hear from you, so please use the below comment section to share your thoughts and feedbacks.