We're midway through 2017 and the year has been an exciting one for The Akshaya Patra Foundation so far! New beginnings, new kitchens and many more beneficiaries – the Foundation is well on its way to fulfill its mission of feeding 5 million children by 2020.
In the northeastern part of the country, Akshaya Patra expanded its reach to the state of Tripura. Our kitchen, at Kashiram Para in the Kanchanpur Sub-division of the state, is a centralised kitchen feeding a total of children. This our second kitchen in the northeastern states, the other one being in Guwahati, Assam, which feeds 47,249 children in 607 schools.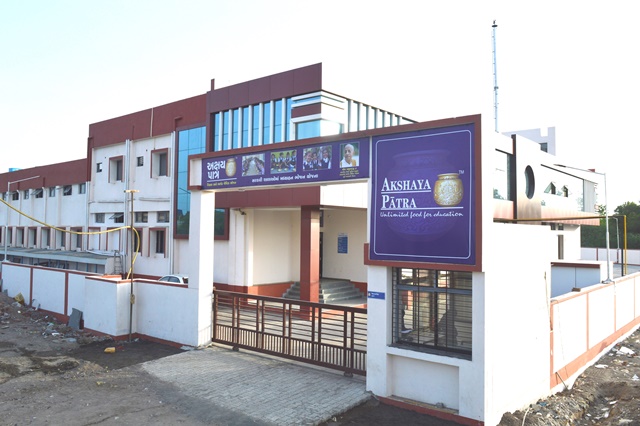 Our kitchen at Bhavnagar
We also added to our reach in Gujarat, with our kitchen at Bhavnagar – the fifth largest city in the state. This kitchen – a centralised kitchen – serves meals to 28,000 children in 57 schools in the state. The kitchen was inaugurated by Shri Vijay Rupani, Chief Minister of Gujarat and was set up with assistance from our donors – Gujarat Mineral Development Corporation (GMDC),
Gujarat Maritime Board (GMB) and Gujarat Gas Ltd (GGL).
We are also in the process of significantly expanding our reach in Uttar Pradesh (UP) with the launch of 11 new kitchens. These kitchens will be set up in the cities of Varanasi, Ghaziabad, Agra, Allahabad, Kanpur, Etawah, Kannauj, Ambedkar Nagar, Azamgarh, Rampur and Ballia. Currently, we have kitchens at Lucknow and Vrindavan in UP. The establishment of the 11 upcoming kitchens will take our reach in the state to 13 lakh beneficiaries from the 2,11,680 children we are currently feeding there.
The Foundation will also expand its reach in Rajasthan, with our sixth kitchen there at Bhilwara. A Memorandum of Understanding (MoU) was signed for the same with Rural Electrification Corporation Limited (RECL), in the presence of Mr Harsh Baweja, Chief Project Manager of RECL Jaipur; Shri Govind Dasa, President of Akshaya Patra Rajasthan; and Shri Raghupati Dasa, Programme Coordinator – Akshaya Patra Jaipur.
Watch this video featuring Akshaya Patra's mega kitchen to know how the Foundation prepares wholesome meals for school children every day
Akshaya Patra' kitchens – the force behind its school lunch programme – adhere to the strictest qualities of hygiene while cooking tasty, nutritious meals. The Foundation's expansion across India will feed the cause of 'food of education' through its state-of-the-art kitchens to benefit the nation's future – its children. You can join the cause by making a donation to help ensure that no child is deprived of education due to hunger.