As many as 4,157 villages across 30 districts of total 33 districts in the state have been submerged. Approximately, 43-lakh people have been affected by the nature's fury along with inundating 95% of Kaziranga National Park. (NDTV, 16 July 2019).
The Assam Government issued a red alert on 15 July 2019 as the flood situation turned extremely critical with water level rising every hour. This merciless flood has severely affected people, wildlife, infrastructure, and livelihood of the entire state. In this crisis situation, the people of Assam are seeking for your help.
Akshaya Patra's relief service has begun
The Akshaya Patra Foundation has stepped in to provide food to affected people in Assam from its kitchen in Guwahati. To begin with, the Foundation will provide meals twice a day to approximately 700 people staying in a relief camp in Athgaon area of Kamrup district.
Location of relief work: Athgaon (Kamrup District)
Relief work updates: Akshaya Patra began serving cooked meals from 17 July 2019.
Number of meals served so far: 52,880 meals
Day-wise feeding:
17th July: 1,700 meals (1,000 lunch & 700 dinner)
18th July: 1,200 meals (700 lunch & 500 dinner)
19th July: 2,900 meals (1,500 lunch & 1,400 dinner)
20th July: 3,200 meals (1,300 lunch & 1,900 dinner)
21st July: 2,900 meals (1,900 lunch & 1,000 dinner)
22nd July: 3,200 meals (1,900 lunch & 1,300 dinner)
23rd July: 3,600 meals (1,700 lunch & 1,800 dinner)
24th July: 3,500 meals (1,750 lunch & 1,750 dinner)
25th July: 5,040 meals (2,000 lunch & 3,040 dinner)
26th July: 6,280 meals (3,040 lunch & 3,240 dinner
27th July: 5,930 meals (3,240 lunch & 2,690 dinner)
28th July: 5,500 meals (2,750 lunch & 2,750 dinner)
29th July: 4,580 meals (2,520 lunch & 2,060 dinner)
30th July: 1,150 meals (690 lunch & 460 dinner)
31st July: 760 meals (450 lunch & 310 dinner)
1st August: 460 meals (460 lunch)
2nd August: 490 meals (490 lunch)
3rd August: 490 meals (490 lunch)
Type of meals served: Rice, vegetable pulao, kabuli chana, and mixed vegetable dal for lunch;and khichdi and labra sabji for dinner.
Period of relief work: 17 July 2019 to 3 August 2019.
Few shots from the ground
Food being transported to flood-affected area.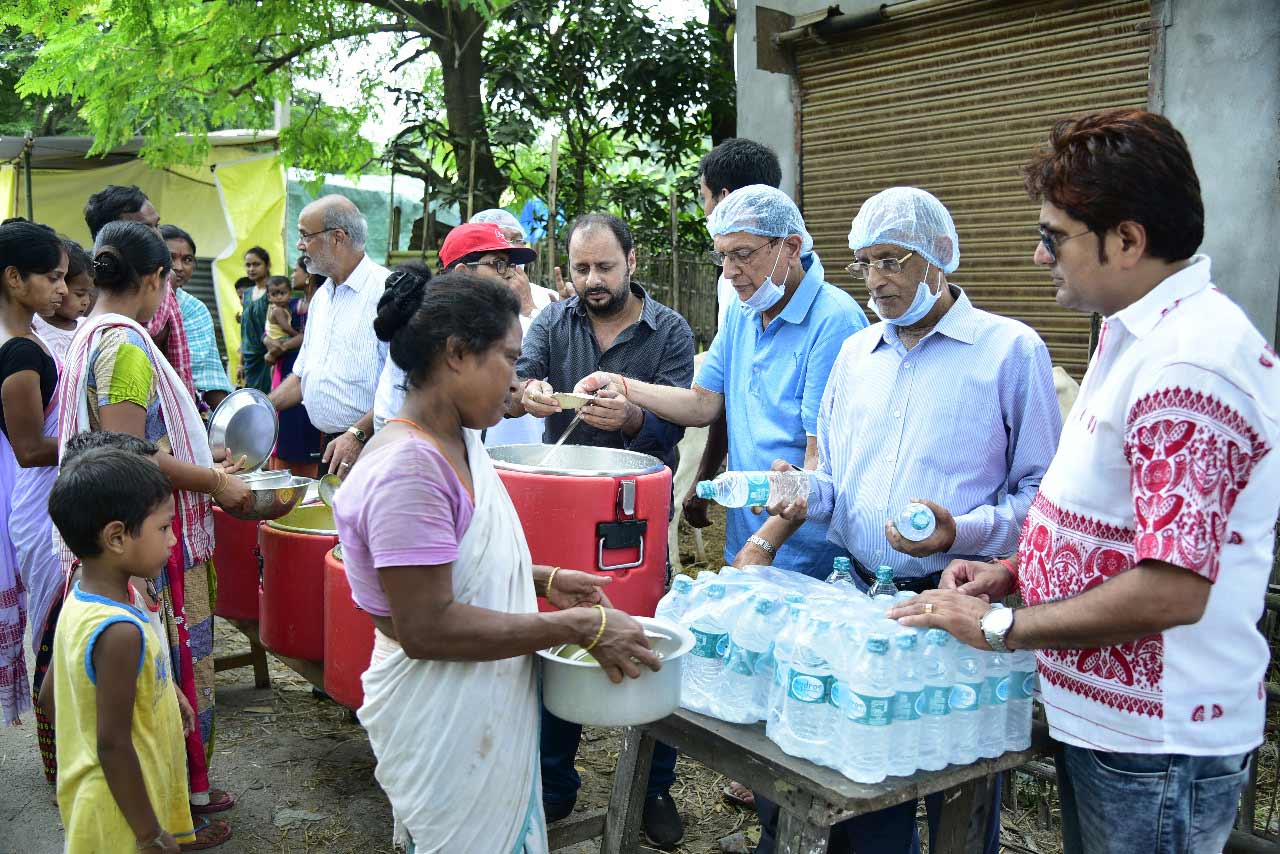 Akshaya Patra's Proactiveness During Natural Disasters
Whenever a place is hit by natural disasters like flood or earthquake – within the country or across the borders, Akshaya Patra is always present to provide relief to the affected-people by providing food. Here is a quick overview of Akshaya Patra's past relief activities:
Odisha Cyclone Relief
Activity period: 15 May 2019 to 6 June 2019
Location of relief work: Brahmagiri, Satar, Kanas, Gok, and Satyabadi
Total meals served: 1,00,000
Kerala Flood Relief
Activity Period: 13 August 2018 to 30 September 2018
Total Meals Served: More than 1 lakh
Chennai Flood Relief
Activity Period: 8 December 2015 to 25 December 2015
Total Rice-based Meals Served: 2,12,000
Gorakhpur Flood Relief
Activity Period: 25 August 2017 to 8 September 2017
Total Rice-based Meals Served: 84,200
Total Theplas Served: 1,92,000
Nepal Earthquake Relief
Akshaya Patra airlifted 1,00,000 meals to earthquake hit Nepal in April 2015. It also established a centralized kitchen in June 2015 to support the affected people of the region. The Earthquake Relief Centralised Kitchen Project was a joint initiative undertaken by Akshaya Patra, Jamsetji Tata Trust, and Sipradian Sahayata Sanstha. The kitchen served 1.4 million meals to the affected people for 88 days.
Gujarat Flood Relief
Activity Period: 25 July 2017 to 30 July 2017
Total Theplas Served: 4,00,000
Areas Covered: Banaskantha District (North Gujarat), Kalol, and Ahmedabad regions.