Hemalatha watches her mother toil seven days a week to meet ends and that's what inspires her to uplift vulnerable children on streets. She tells us that children do not need our sympathy, but empathy, which would transform their lives. She says, "I would like to tutor children living on the streets. To uplift them, education is an important factor." The aspiring social worker makes us feel proud, as we learn more about her ambition. We met Hemalatha at Government Lower Primary School, Hosur Meenakunte. She is a 10-year-old girl studying in Std V. She hails from Andhra Pradesh; her parents moved to Karnataka in search of better job opportunities.
As she grows up, she aspires to educate children on the street. She knows that her situation is not much different from theirs but feels glad to be exposed to education. "Some of these children do not have the privileged of attending school. I want to empower them so that they are not left vulnerable." At a young age, she understands how education has been benefitting her and the need for it to lead a respectable life.
The Lingering Pain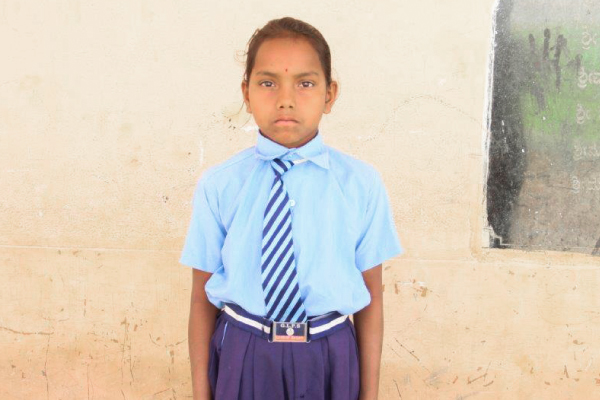 While talking to her, we noticed the girl to be a little hesitant to talk about her family. But later she told us that her family, which once consisted of four members, is now has only three. Her father – Mr Muniraj – succumbed to an accident when she was six years old and studying in Std I. Tears welled up in her eyes when she remembered her father; she was inconsolable then. The little girl hasn't recovered from the trauma. She now lives with her mother and brother.
As her father was the only earning member of the family, her mother Savita had to take up all the responsibilities after his death. She works as a full-time house help. The meagre income she earns is not sufficient to support a family of three and she works on Sunday too, with a hope to earn some extra money. Her brother is also a student of Std VII in a Government school and benefits from the school lunch served by Akshaya Patra.
But all this doesn't deter this ambitious child from having big aspirations for the betterment of society. There is yet another hurdle she has to overcome before she reaches her goal – the hurdle of being married once she turns 14. "My mother is planning to make me discontinue my studies after I turn 14 and get me married. She is concerned about my safety. If my father was alive, I would not have faced such a situation," she tells us, as tears roll down her eyes.
Our heart melted and all we could see in her eyes was the hunger to achieve her ambition. She dreams of a bright future, but is worried that marriage would not allow her to achieve it.
A hard-working student
Hemalatha makes it a point to revise the lessons taught in school every evening. Though she doesn't have anyone to guide her, she ensures that she approaches her teachers and clarifies doubts the next day. Apart from helping society, she also wants to help her mother, who works hard all day long. "My favourite subject is Science. I like to study all subjects, but I have a keen interest in learning Science. I ensure that I have understood the lessons well," she says. Her favourite teacher is Regina Miss as she teaches Maths and English in a unique way, to ensure her students understand the concepts.
The nutritious morsel
As Hemalatha's mother goes to work early in the morning, the siblings rely on a school lunch served by Akshaya Patra. "My mother is happy that we get a glass of milk in the morning and nutritious mid-day meals in the afternoon."
For children like them, mid-day meals are the only wholesome meals they get to eat in the day. In fact, the meals also encourage them to attend school regularly and continue their studies. The nutritious meals give them the power to learn and dream high.
This makes it necessary for NGOs like Akshaya Patra to serve food regularly to these children to ensure that they take the country towards positive development.
Help the children like Hemalatha to achieve their dreams by supporting Akshaya Patra to feed the children.