Global hunger has been on a constant rise in the last few years. The COVID-19 situation has further threatened food security in the poor and marginalised sections of society. It is projected that 330 million will suffer from chronic hunger by the end of 2030.
To tackle the pandemic, new ideas were put in place by the Indian Government. However, the effect of curbing the spread of the disease led to food insecurity in the lives of millions of needy people in India. Food was a problem that the Government tackled by providing cooked meals. In association with various State Governments and District Administrations, The Akshaya Patra Foundation began its COVID-19 Relief Service.
As a part of this service, food was served as a solution to the hunger pangs of marginalised communities of India. Nutritious, cooked meals were served to needy individuals and grocery kits were provided to support the sustenance of low-income families. As of 15th October 2020, 5,33,09,910 cooked meals were served by the NGO and 10,26,399 families were supported with grocery kits.
Amid this COVID crisis, schools were shut to avoid the spread of the virus. This had a huge impact, reversing the years of progression on education.
90% of all students kept out of school amid the pandemic.
For most of the children studying in Government and Government-aided schools, mid-day meals are the only source of nutritious meals they get in a day. Schools remaining closed mean that children do not get the right amount of nutrition required for adequate development. To support the food and education of beneficiaries of the Mid-Day Meal Programme, Akshaya Patra initiated the Happiness Kits Programme. As a part of this programme, every beneficiary is supported with: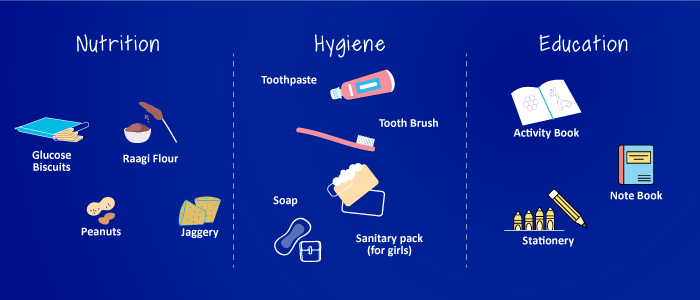 Apart from feeding mid-day meal beneficiaries, this NGO in India also takes care of pregnant and lactating mothers. Anganwadi Kits Programme was started to provide health and nutrition to children and nursing mothers. 2 kits to a lactating mother and her child will provide Glucose Biscuits, Jaggery, Spices, Hygiene Kit and Milk powder.
Support the needy population of India with your online donation. Every help goes towards providing millions of healthy meals to marginalised sections of society.