Long-term hunger is the one problem that is the root cause of many other concerns in India.
Hunger pushes children to work for an additional income at the age where they must be in school playing, learning and exploring their potential. Malnutrition in nursing and expecting mothers affects their strength during and after childbirth. It also strips infants of essential nutrients during the crucial years of their growth and development.
When malnourishment hits growing children, it invites several chronic and fatal diseases. Not only that, but it also hinders the efficient growth of their vital organs that may cripple them for their entire lives! When school-going children face undernourishment, they lack the physical and mental strength to learn, wasting their time and efforts in school resulting in low performance and confidence levels.
Intervention of NGOs
Keeping in mind these frequently-occurring circumstances in India, many not-for-profit entities surfaced to help people in distress and support their development.
One such NGO in India is The Akshaya Patra Foundation which works in the service of children since the last 21 years to nourish them and support their education. But recognizing a host of other social issues in India, we began expanding our services to address hardships that have lived amongst us for centuries and affected the pace of our development as a nation.
Below are the social initiatives that we are working on currently.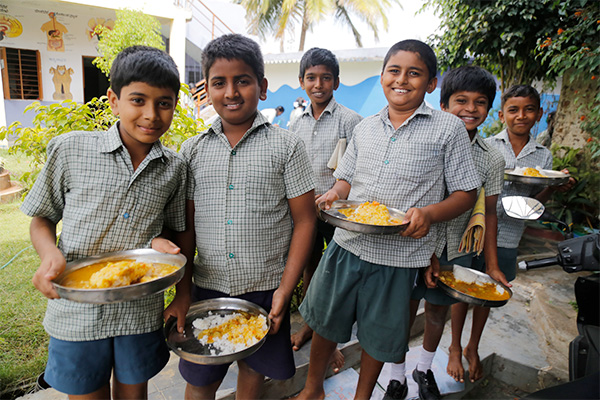 PM Poshan Abhiyan
The PM Poshan Abhiyan (formerly known as the Mid-Day Meal Scheme) was mandated in India in 2001 to feed underprivileged school children in Government and Government-aided schools.
Given the size of India and its population, during the scheme's infancy, implementation of the became the biggest problem. Therefore, multiple NGOs pooled in efforts to see through the its execution throughout the country.
We, at Akshaya Patra, are an NGO in India, distributing meals in low-income schools since 2000. Therefore, partnership with the Government became a win-win for both parties where collaborated efforts proved beneficial for disadvantaged families in two ways:
• It encouraged parents to send their children to school as they served meals free of cost. As a result, it improved the enrollment and attendance rates in schools. Also, more girls began attending schools
• The programme nourished growing children, helped them focus better at school and strengthened their immunity to diseases. As a result, they scored better both in academics and extra-curricular activities, thus proving a promising future for the family and nation on the whole
Today, we can proudly say that many of our beneficiaries are earning well at recognised organisations and some have become donors themselves to carry forward the noble tradition of giving.
Anganwadi Feeding Programme
Anganwadi Centres are centres for mother and child care in India. They are a part of the Integrated Child Development Services (ICDS) Scheme—one of the centrally sponsored flagship programmes for children and nursing mothers.
The concept revolves around the fact that stimulation during the first six years of life is critical for a healthy development. Therefore, malnutrition is best-addressed in the formative years of a child's life. This includes breastfeeding and providing small doses of cooked food during their early childhood.
To ensure these requirements are efficiently met, we started the Anganwadi Feeding Programme that supported the Government's initiative to nourish infants from the time they are in their mother's womb. It also ensures nourishment for would-be and lactating mothers.
Feeding Homeless Mothers
Homeless mothers (young or old) from marginalized communities often struggle to make ends meet due to a lack of support from their families. They barely manage one meal a day, leave alone saving for their future. Hence, our initiative for these helpless and homeless mothers feeds and provides them with essential nutrients that will help them rise to the challenges of life.
Disaster Relief Activities
Natural calamities often bring unexpected, massive and lasting damage to human lives and property. Thus, we proactively responded to unfortunate disaster victims during floods, cyclones, earthquakes and the COVID-19 pandemic with cooked meals and grocery kits.
Till now, we have supported lakhs of people in regions of Assam, Odisha, Kerala, North Karnataka, Uttar Pradesh, Gujarat, Tamil Nadu and Nepal. Currently, we are helping flood victims of Assam and Andhra Pradesh. We have served cooked meals and packed meals and continue to distribute flood relief grocery kits to help in their survival.
The relief activities are still on and you can donate to feed the needy flood victims through online donations.
Scholarship Programme
The Scholarship Programme at Akshaya Patra is a unique initiative as it aims to benefit children beyond meal distribution. It was started to support the education of children and prevent school dropouts. The programme helps our beneficiaries to continue their studies while motivating them to consider pursuing their higher studies. Currently, we run two categories of scholarship programmes:
• Alumni Scholarships – Our beneficiaries who have graduated standard X receive this scholarship to pursue higher studies.
• Akshaya Patra Beneficiary Scholarships – Our beneficiaries studying in standards IX and X receive this scholarship.
Beyond the Meals
Today, every field in this world is progressing with full-speed; thanks to the new-age digital equipment and the internet. But the digital divide in developing countries like India became evident during the pandemic where millions of children had to discontinue schooling due to a lack of access to digital aids. Additionally, it also reversed the benefits of years' worth of their efforts towards learning and education.
Digital education is also crucial when preparing for competitive examinations. Children from challenging backgrounds can trade their academic brilliance through these exams for a better financial and social standing.
Thus, recognising the importance of digital aids in learning, we started the Beyond Meals – Digital Education Programme to make digital education accessible to underprivileged. This flagship initiative engages in the Government's education system to bring out excellent learning outcomes while supporting an enjoyable schooling experience.
The programme also contributes to the Government of India's s vision of 'Digital India' and supports the endeavours of low-income students in Government schools.
Final Thoughts
Today, contributing to the needs of marginalized sections in India is as easy as browsing the internet on your phone. Now, anyone from around the world can donate to feed the needy beneficiaries of our initiatives through an organized and simple online process.
With the click of a button, any amount from a kind donor like you can flip the socio-economic conditions of the lesser privileged and also contribute towards building a self-reliant India.
Making a difference is not a lengthy process anymore but the only ask is a noble thought.